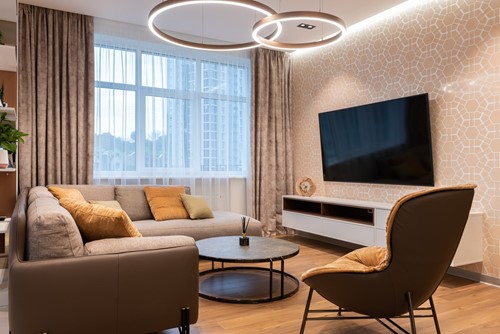 A home media room is essential for those who want to experience movies, games and music in optimal conditions. For others, a media room serves as a gathering place for friends, other loved ones and guests.
Regardless of whether your goal is to host movie nights in a home theater or get in some quality gaming time, you can set up a media room perfect for your every need - even in a small space.
Here are some space-saving media room design tips to help:
Sound
Proper sound design and setup is the first step in creating an excellent home theater or media room. While it might be tempting to default to the classic "surround sound" approach, there are other options for audio equipment setup.
One of the best tiny media room ideas is to invest in a bar-style speaker or soundbar. These efficient devices pump out an impressive amount and quality of sound, and take up less space than most surround sound speakers. They also provide more freedom to pursue your media room decor ideas without the hassle of multiple speakers and messy cables.
Seating
If the focal point of your media room is a television or projector screen, you'll need to arrange your seating accordingly. It's also important to find the right balance between comfort and smart use of space, which can be tricky in the case of small media rooms.
Sectional sofas are a great way to provide ample cozy seating options while working with the size of your room. Another space-saving option for seating are "zero wall clearance" recliners, which extend out into the room rather than back.
This saves you precious square footage when the seats aren't in use, and also prevents needing to drag the chairs back and forth for optimal positioning.
Storage
Media rooms offering a dedicated environment for multiple forms of entertainment can get cluttered quickly. All your gaming consoles, stereo equipment, speakers, DVD and Blu-ray players all need surface space. Plus, they all come with their own connection and power cables.
Luckily, there are plenty of clever ways to store and arrange your media equipment without getting lost in the chaos. One option is to install floating shelves to keep components easily accessible while out of the way. This will also allow for adequate airflow to help prevent your devices from overheating.
The possibilities are endless when it comes to media room design ideas. Whether you want to create a home theater for watching movies complete with stadium seating, or a cozy atmosphere to immerse yourself in virtual worlds, you can use these tips to accomplish your media room goals in any sized room.