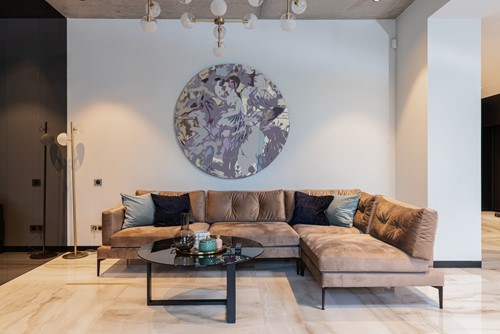 How does an interior designer turn regular living rooms into beautiful living rooms? Do they pull from a list of favorite living room ideas? Do they feature natural light from a window seat pouring over a coffee table? Maybe they feature one entire wall of wall art.
While everybody's personal style preferences are different, there are some common elements that add beauty and sophistication to interior spaces. To help you upgrade your space, here are some beautiful living room ideas:
Rethink your focal point
Understanding the concept of focal points is key for creating a beautiful living space. For living rooms, the focal point is often the first step in creating a design, such as a living room sofa with added flair or a lavish entertainment setup.
Once you choose a focal point, you can build the rest of your furniture arrangement and decor around it. Some of the most common focal points include televisions and fireplaces, but to take your living room to the next level, try thinking beyond the usual living room scheme.
For a bold and beautiful new living room concept, change the focal point to include a large piece of artwork, a dramatic light fixture, coffee table or even the window view. Depending on the size and layout of the room, you have plenty of options for shifting focus and making the room more beautiful as a result.
Stick to a color palette
Some of the most beautiful indoor spaces feature a carefully crafted color scheme. However, it's important to avoid matching everything perfectly. Instead, consult the color wheel for help finding your main color and its complementary colors.
This will help you create aesthetically pleasing contrast without clashing. It can also open up new ideas for accessories, art and new living room furniture.
Light it right
Proper lighting can be the key difference between a nice living room and a stunning living room. Make sure to use all three layers of lighting: ambient lighting, task lighting and accent lighting. Striking a perfect balance will not only brighten the room, but also draw attention to its best features and complementary neutral space.
Combine a mixture of floor lamps, table lamps and recessed lights to give depth to a traditional living room, or add extra flair with colorful bulbs in these light fixtures to make your living room pop.
The right lighting can also have a profound effect on the comfort level of a space. While you want your living room to be beautiful, you also want to spend time in the space. With the right mix of soft ambient lighting and functional task lighting, you can enjoy your time in your living room while beautifying it at the same time.