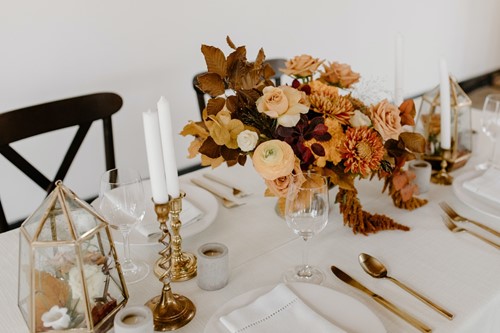 Whether you're having family dinner or hosting a larger gathering, a stylish dining table is key. No matter what interior design style you like or use in your dining room now, there are ways you can add new trends to refresh the look of your dining setup. Here are some of the top trends in tableware and flatware to inspire your next dinner party:
Art Deco
Art Deco style has maintained its popularity since its inception and is an excellent way to enhance your dinnerware. Art deco table settings create an artistic statement without being too bold. Geometric shapes, parallel lines and simple two-tone color palettes are common. Try black and white dishes with solid color napkins for contrast.
Gold
Gold flatware is a luxurious addition to your dining table, and it's more accessible for everyday homes than you might expect. Warm metallics are trending throughout the entire home but especially with the dining table. Try gold utensils, gold-rimmed dishes and gold accents wherever you want to add some extra flair.
Textures
Textured surfaces are a popular emerging trend in dinnerware and are perfect for a funky, eclectic vibe. Look for animal and nature-inspired raised designs and reliefs. You can either go with a matching set or create a collection of different options, so every seat is different. Tactile ceramic finishes are the best way to go to indulge in this trend.
Rustic Elegance
Rustic tableware with an elegant flair is timeless and adds charm to any table. Go for a sense of laid-back luxury with soothing colors, subtle patterns and smooth edges. Rustic style flatware is traditional and simple, with clean lines lacking extra flourish.
Silver
Silver can add a shine to the dinner table without pretension or distraction. Silver is timelessly stylish and goes with everything—from gunmetal to pale gray you have plenty of options to match with the rest of your dining aesthetic. Try sleek and shiny flatware with simpler dishes for a clean and chic look.
While commonly overlooked, choice of dishes, and flatware is important for the style of your home. Keep these trends in mind if you're looking for inspiration for your next tableware upgrade.